IncFile vs. LegalZoom (Save $378 Instantly)
For this IncFile vs LegalZoom review, our legal team used both services for LLC formation and compared the features.  Both are excellent, but each serve completely different types of businesses. Many entrepreneurs waste hundreds of dollars or MORE by making the wrong choice. You don't want to spend money on services you don't need.
In this IncFile vs LegalZoom Comparison we'll cover:
Who should use LegalZoom and who should use IncFile
Incfile pricing and LegalZoom pricing
The pros and cons of each
What each service offers
IncFile vs LegalZoom. Which is the best LLC formation and incorporation service?
Let's dive right in.
IncFile vs. LegalZoom: Overview
LegalZoom and IncFile are two of the most popular online business formation websites. Both offer reliable business and LLC formation at a fraction of the price of an attorney.
The main difference is that IncFile specializes in fast, simple, and affordable business formation and compliance help. LegalZoom, on the other hand, offers complete legal solutions.
Think of it this way:
IncFile launches your business and keeps you compliant.
LegalZoom launches your business, keeps you compliant, AND offers common attorney-level services like contracts, intellectual property rights, family law, and legal planning.
LegalZoom offers far more options and has much higher brand recognition. But this all comes at a price.
IncFile vs. LegalZoom: Types of Services
Both websites focus on one core service: forming a business.
IncFile.com and LegalZoom.com both offer:
Business Formation: You can start these types of companies with both: LLC, S Corp, C Corp, NonProfit
Registered Agent Service: Each state requires an LLC to have a registered agent to act as an intermediary between the state and the business. Both companies offer registered agent service, but one is FREE, and the other is very expensive.
Corporate bylaws or an LLC operating agreement
Compliance: Both companies offer company changes, tax filings, annual reporting, and name search services.
The following services are available ONLY FROM LegalZoom:
Business Formation: LegalZoom goes above and beyond IncFile, giving you the ability to form a:
Sole proprietorship
Limited Partnership (LP)
Limited Liability Partnership (LLP)
Limited Liability Company (LLC)
Intellectual Property: Search, register, and monitor trademarks as well as patent services.
Legal Forms and Agreements: Invoices, bills of sale, NDA, plus many more legal forms. Small businesses can create enforceable legal documents very quickly – an extremely valuable service.
Family Law: Will and trust, power of attorney, divorce, and real estate law.
Attorney Advice: LegalZoom connects you to a vast network of qualified attorneys ready to help with any legal issue from lawsuits to tax planning.
LegalZoom offers far more services than InFile, but IncFile has one key advantage for small businesses…
IncFile offers business tax returns while LegalZoom DOES NOT:
Business Tax Returns: IncFile connects you to professionals that file your business taxes for a flat fee. This eliminates the hassle of personally filing, including eliminating the possibility of mistakes (very common with business taxes).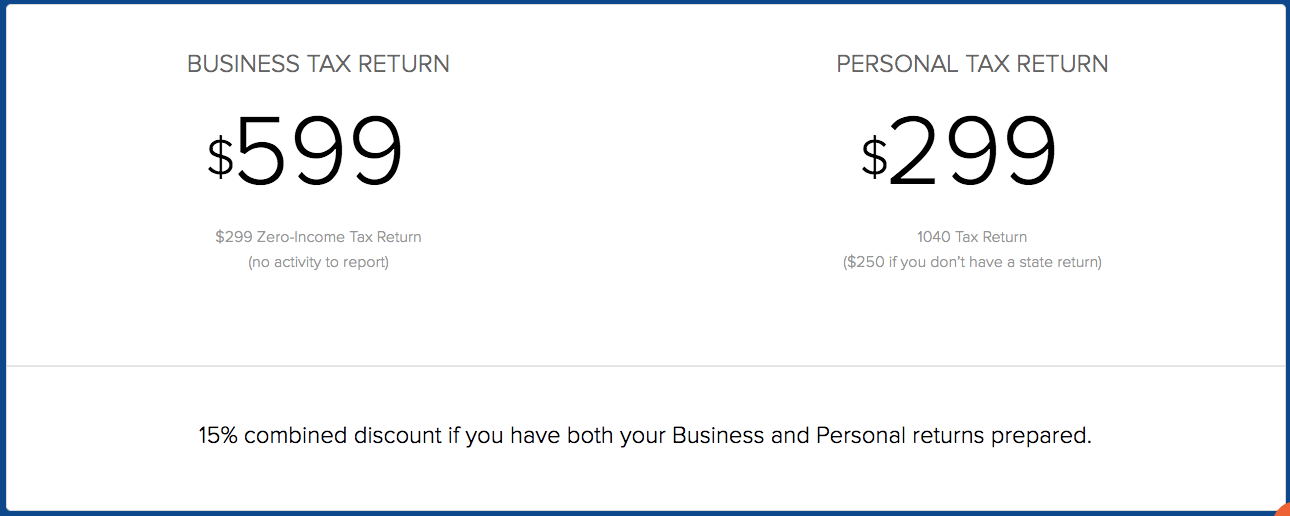 Pricing
Pricing is extremely complex and varies based on your location, level of service, and whether you need add-ons, or tax filings.
In general, IncFile is more affordable. Incfile's operating agreement and Employer Identification Number (EIN) services cost less a la carte and are included in their more premium business packages.
LegalZoom no longer offers these necessary features as part of any of their business formation packages. Instead, they are offered on top of the LLC formation costs, which means the price can add up fast. So if you were to order their Standard with an EIN, Operating Agreement, and registered agent services, you would pay almost an additional $500.
IncFile Pricing
IncFile is the web's most affordable LLC formation service. You cannot find anything cheaper.
They'll form your LLC and provide 1 year of registered agent service FOR FREE.
Yes, you read that correctly. You only pay the mandatory state fee (this fee goes to the state, NOT to IncFile). IncFile will file your Articles of Organization for $0 in fees.
Even if you incorporate on your own, you will have to pay the state fee. So, why not use professional services? It costs nothing extra.
IncFile offers 3 pricing packages ranging from $0 – $299:
Silver includes:
Articles of Organization
Name Search
1 Year of Registered Agent Service
Bank of America Business Account
Phone and Email Support
30-Minute Business Tax Consultation
This is why IncFile is the best online business incorporation service. No other company offers a done-for-you package that launches an LLC for $0. Once you pay the state fee, you're open for business.
New business owners can save hundreds of dollars in fees and be legally compliant within days. We can't see any reason to use a paid service when all of this comes free.
The Gold tier at $149 includes an LLC operating agreement, preparation of meeting minutes, and filing of Form 2553 (if you want your business to be taxed as an S-corp). Summary of the Gold Tier:
Employee Identification Number (EIN)
IRS Tax Form 2553 (S Corp)
Business Operating Agreement
Banking Resolution
The highest tier is Platinum. Honestly, this is where IncFile starts to lose its value. This level of service is not needed for the vast majority of entrepreneurs. Platinum costs $299 and comes with:
Expedited Service
Domain and Email
Business Contract Templates
It's important to note that with IncFile, all tiers have guaranteed next business day processing.
They make registering a company as easy as possible, so you can focus on the important things. Beyond that, they have a full suite of startup services (like banking and bookkeeping), which means IncFile not only helps you get started, but supports you in your continued success.
LegalZoom Pricing
LegalZoom is the world's most popular online legal service, and that name comes at a price.
Using LegalZoom takes $79 out of your pocket instantly (compared to $0 at IncFile). And, the upgrades come with even fewer tools than IncFile offers.
Standard includes VIP processing, and deluxe offers rush processing. That's about it. For additional compliance, such as an Operating Agreement for LLC formation, it's going to cost you extra.
The express Gold tier gets you rush processing with Secretary of State and express shipping. Unless you are desperate to file your LLC, the express Gold tier is NOT worth it.
In our opinion, LegalZoom is severely overcharging for its brand name and reputation.
NOTE: All IncFile packages include next business day processing times. LegalZoom can take up to 35 business days if you don't upgrade. That's an unfair business practice in our opinion. 35 business days? Crazy.
Why we can't recommend LegalZoom for business formation
Not only does LegalZoom cost more for LLC formation, but you also must pay for registered agent services. Remember, this is mandatory.
$299 for the first year.
Using IncFile saves you $378 instantly in your first year!
IncFile vs. LegalZoom: Advantages of Each
After using both services, it's clear that IncFile and LegalZoom both cater to different audiences.
IncFile is:
More Affordable: Prices starting from $0 with one year of registered agent fees included. Operating agreements and other options included in the packages.
More Convenient: Everything you need to get off the ground is included in your package, including the registered agent service.
Faster: IncFile processes your paperwork far more quickly than LegalZoom, and you don't have to upgrade to get fast service.
LegalZoom is:
More Comprehensive: LegalZoom offers nearly every legal service you could need, and if it doesn't provide it, they connect you to an attorney who does.
Designed for Ongoing Services: If you're a large company with complex legal needs, then LegalZoom is better for you. If you foresee needing constant advice, choose them.
Cons of IncFile
Incorporation and compliance services only
A few annoying upsells
No EIN in the Silver package (You can pay $70 for one or file on your own)
Cons of LegalZoom
Head-to-Head Comparison
During our tests, we made a note of a few key factors. Here's how both services compare head-to-head.
User Experience (UX)
This one is not even close. IncFile wins in a landslide.
IncFile offers a simple, smooth, and seamless user experience complete with a modern interface, clean dashboard, and eye-pleasing colors.
LegalZoom's site, on the other hand, looks like it hasn't been updated since the law was invented.
Now, compare that to this:
Choose your entity and your state. Next, click LAUNCH MY BUSINESS.
From there, you're taken to a simple form generator:
LegalZoom makes you enter your LLC's name first:
Then it makes you enter your email.
The process is everything but smooth.
Winner: IncFile.
Experience
LegalZoom is far more experienced.
They claim to have formed over 1 MILLION LLCs and helped over 2 MILLION customers.
IncFile has helped about 250,000+ businesses.
This is one reason why LegalZoom charges such high prices. You pay for the name.
Winner: LegalZoom.
Reviews
IncFile has stellar reviews across the web and with the Better Business Bureau (BBB). LegalZoom not so much.
Both have an A+ rating with the BBB, but there's a vast difference: IncFile is popular with customers.
Here's LegalZoom's profile:
Average rating of just above 1 star.
Here's IncFile's:
Nearly 4.5 stars. If you want to read more on what makes IncFile a great option, check our article on IncFile.
There are dozens of complaints about LegalZoom's customer service, and even more about unfair fees and improper use of credit cards.
We did not have any of these issues, but many customers aren't so lucky.
Winner: IncFile.
Compliance
Both companies offer compliance services such as tax filings, reporting, and company changes.
LegalZoom's annual reporting is cheaper than IncFile's, but the quality of service is about the same throughout. The only advantage we give IncFile is that their services are a bit faster and easier to access.
Everything else is a wash.
Winner: Tie.
Features
Lastly, we want to touch on features included in each package quickly.
LegalZoom has far more services than IncFile. However, IncFile offers more VALUE in each package.
For example, IncFile costs less but includes more services such as registered agent, a business bank account, and free tax consultation. None of these are included in any LegalZoom package.
The only tangible value from LegalZoom's upgrades is the speed.
Winner: IncFile.
Contracts
LegalZoom is the more comprehensive service of the two. IncFile specializes in launching your business. LegalZoom is a complete legal solution.
LegalZoom's documents/forms/contracts support is excellent. Their library has hundreds of documents including everything from Employee Written Warnings to Non-Disclosure Agreements.
This is one reason why we recommend LegalZoom to large, complex businesses. Creating a custom document for every legal situation imaginable is as easy as clicking a few buttons.
Who Should Use IncFile?
Entrepreneurs on a budget who need the most affordable service
Small and mid-sized businesses who only need to incorporate
Anyone who wants the fastest, most straightforward incorporation service
Those who don't need regular legal services and don't need family, real estate, or intellectual property law assistance
Who Should Use LegalZoom
Large businesses with complex legal needs
Entrepreneurs who foresee needing regular help
Those who need help with forms or contracts
IncFile vs LegalZoom: Verdict
Both LegalZoom and IncFile are quality services, but we highly recommend IncFile for incorporating your LLC, S Corp, or Nonprofit.
IncFile is faster, easier, and better than LegalZoom, and it costs 378 dollars LESS!
You can launch an LLC in as little as 15 minutes for $0 in fees. That's an unbeatable value. And the service is highly reliable, with over 250,000 satisfied clients.
LegalZoom is ideal for large businesses and for entrepreneurs who need legal help with family, real estate, or tax law. But the vast majority of business owners are wasting money by using this service to incorporate.
If none of these options appeal to you, check our LegalZoom and LawDepot comparison.
---
F.A.Q
Q: What is Better Than LegalZoom?
A: IncFile is better than LegalZoom for incorporating a business because it's faster, easier, more affordable, and have excellent customer service.
Q: Is LegalZoom the Best?
A: No, it's only the most comprehensive and well-known name in the industry. LegalZoom offers excellent tools such as contracts, family law tools, and real estate law advice. But other companies are better for business formation and compliance.
Q: Should I Use Inc File?
A: Yes, you should use it if you need a fast and affordable way to incorporate an LLC. It costs $0 in fees to launch an LLC.
Q: Why Should I Use LegalZoom?
A: LegalZoom is expensive, and the UX is very poor. We only recommend using it if you need high-end attorney services. For the likes of a simple LLC formation or an operating agreement, Incfile is the way to go.
Q: Is IncFile REALLY Free?
A: Yes and no. Yes, it charges no fees to incorporate your LLC. However, you have to pay the state fee. This is mandatory even if you file on your own LLC. The fee is inescapable. They charge you for its two package upgrades – Gold and Platinum. They also offer several upsells, including EIN, tax filings, and annual reporting.
Q: I Own An LLC, What Now?
A: As a business owner, you might be tempted to open your website and start making money. However, your business is still at risk, which is why you should protect it with compliant Privacy Policies and Terms and Conditions. Check our FreePrivacyPolicy.com review to get started.