Our Quest For The Best Privacy Policy Generator
What is the GDPR – And Why Do I Have to Comply?
The General Data Protection Regulation is stringent data privacy and security law that imposes certain obligations on companies that target or collect data on EU citizens.
In simpler terms, this law says "if you target EU citizens with your business and collect their private data – email address, names, phone number, etc. – you must tell them WHAT you are collecting and HOW you use it".
As a business owner, this means that you must have a valid privacy policy with the proper information and disclaimers visible and written in "clear and plain language". If you don't, a customer/visitor could take you to court – or worse – the EU could levy harsh penalties (Up to 20 MILLION EUROS!).
How to Become GDPR Compliant
The General Data Protection Regulation is 88 pages, so we can't explain the minute details.
As it relates to your website, however, compliance is relatively simple and straightforward.
Your privacy policy must include how your company collects, uses, shares, and manages personal data collected by visitors. Including:
Email
Phone number
Name
Address
Birthdate
Credit card details
IP address
Browsing data
Cookies
Your policy must also include HOW you use this data. For example, if you share this data with any apps or analytics software, or use it for remarketing.
GDPR, CalOPPA, and COPPA
Chances are if you do business in both the EU and the United States, your privacy policy must also be compliant with CalOPPA and COPPA.
Failure to comply with these regulations could result in the same types of penalties you could receive under the GDPR.
There are three regulations most websites/businesses MUST BE AWARE OF when creating a privacy policy.
GDPR: The EU's data online privacy law.
CalOPPA: CalOPPA is the state of California's data protection equivalent of the GDPR. If your organization collects the data of California residents, you must have a visible privacy policy stating what is collected and with whom you share it.
COPPA: COPPA is a US law that imposes specific requirements on operators of websites that collect data on visitors under the age of 13. We heavily recommend complying with this law if you think your site caters to such visitors.
1. Termsfeed
Top on our list, we have Termsfeed, a one-stop-shop for all of the basic policies any website may need. They're regarded as the best privacy policies generator in the business for the ease of use and attorney-level quality. Termsfeed works great for the following entities: websites, eCommerce, Facebook pages, SaaS, digital products, and much more.
If you are looking for a free privacy policy, Termsfeed can generate a template privacy policy for individuals, but if you need GDPR or CalOPPA clauses, you will need to pay for these features.
Since you are in the market for your business' privacy policies, you may be glad to know that Termsfeed has a generator for Cookies Policy, Terms and Conditions Agreement, EULA, Return & Refund, and Disclaimers.
Features:
Easy to use
All legal agreements
No recurring costs
Create privacy policies in four steps
Free agreement templates
Live chat support
Follows worldwide laws
GDPR and CalOPPA compliant
Ease of use
Why We Like Termsfeed
TermsFeed has a user-friendly interface. All you have to do is answer a series of questions about your business and disclose the type of information that you will collect from your visitors. Keep in mind that most of the options that aren't free are essential for your privacy policy page. Don't risk your website over a few dollars!
That being said, Termsfeed has a fair pricing model, since for $14 you should be able to create a basic policy page. GDPR compliance can be added for $24, CalOPPA for $14, and so on. Even if you were to add all the clauses, you should still be saving a lot of money as opposed to hiring a team of attorneys to write a policy for you. For a more detailed review on Termsfeed, check our Termsfeed in-depth review.
2. GetTerms
GetTerms earned second place on our ranking for offering a great value. They have a simple pricing model: they offer a free document, a $25 "Starter Pack", and a $49 "Comprehensive Pack".
Their free policy generator offers basic policy and should be good enough for individuals. For $25 you get a starter privacy policy, which covers log data, cookies, personal information, and third-party access.
We recommend the $49 comprehensive pack, which includes a comprehensive and detailed privacy policy, a terms & conditions, and cookies–all of which are top-notch.
Features
Log data mention
Cookies addition
Preferred contact for data controller
Personal information
Third-party access
Terms and Conditions generator
GDPR compliant
Ease of use
Why we Like GetTerms
GetTerms is extremely easy to use. In two literal minutes, you can get a basic privacy policy page. But the main reason why we love GetTerms is what you get for the price. For as little as $49 dollars you get the 3 essential policies your website needs.
3. Termly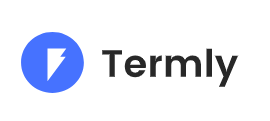 Termly is a great choice for startups or small businesses that may not have a large budget but need a basic privacy policy before upgrading in the future.
The process is not as simple as GetTerms, as it takes about 10 tedious minutes to generate privacy policy with all of the necessary clauses. Thankfully, you get to keep the policy for free, with a few caveats.
First of all, you can't host your own privacy policy. Unless you pay for the policy, Termly will host the policy for you. All you have to do is to copy the link that Termly provides and anchor it on your homepage or footer.
Second of all, there is a beautiful (sarcasm) Termly watermark that can't be removed unless you pay for the Pro package at $10 a month.
You also can't access the cookies policy suite without upgrading, which is mandatory for websites and apps in the European Union.
As mentioned before, Termly's Pro version is $10/mo billed annually. At Charlotte Law, we don't appreciate monthly billing for any policy, because despite the fact that you get an excellent privacy policy that's fully GDPR-compliant, you are paying more than other generators and over a span of a few years you would be paying as much as you would with a lawyer.
4. Iubenda
Generating policies with Iubenda is more involved than with TermsFeed. However, Iubenda produces a very high-quality document. They are the best option for companies with a complex business model that collect a lot of personal information.
The biggest downsides? They have a subscription model AND you can't directly copy-paste Iubenda's policies to your website or app, which makes the process less intuitive.
Features:
Free and paid plans for one or multiple sites/apps
Website & app privacy policy generators
Over 600+ pre-crafted privacy policy clauses
One-click cookie policy activation
Offline viewing options
Options to integrate the privacy policy as a widget, link, or embedded text
Why We Like Iubenda
Iubenda is one of the best-rated privacy policy generators and offers a detailed attorney-level policy page and superior customization. They are not limited to privacy policies, they also excel in several other services including internal privacy solutions and a cookie policy generator.
We did not rank it higher in our list because it's not as intuitive to use as the competition, it's can be expensive in the long term, and you never own your privacy policy completely.
5. FreePrivacyPolicy.com
A website whose domain starts with the word "free" is usually a warning sign, but Free Privacy Policy checks out every box you want your privacy policy generator to check. Formerly regarded as the worst-looking policy generator in the market, FreePrivacyPolicy has since rebranded their website, which makes the experience far more pleasant.
But who cares about looks? Does it work?
Yes. Free Privacy Policy has generated close to a million legally-compliant policies for the low price of free! But don't get too excited, the free version will only cover very basic clauses. If you want to use ads, collect phone numbers or other contact information, you will have to pay to have the GDPR, CCPA, and CalOPPA sections, which all cost a few dollars each.
Features:
GPDR privacy policy generator with compliance verification
Free with available paid add-ons and installation options
Easy to read and understand policies
Privacy policy examples and guides available
Why we like FreePrivacyPolicy.com
If FreePrivacyPolicy generator was cheaper, it would give TermsFeed a run for its money. However, the time being, FreePrivacyPolicy proudly earns a fifth place. While you can get it for free from FreePrivacyPolicy.com, it probably won't be enough to make your website compliant. A solid option regardless.
Honorable Mentions
6. Shopify
Shopify's free privacy policy generator is super fast and easy, and it all takes place on a user-friendly interface. Oh, and did we mention it's free? We did, but we can stop saying it because this is the first that is actually free.
Shopify has been recently updated to include GDPR compliance, and Shopify even sends recommendations to your email address on how to fill out the policy to make it fully compliant. The only downside is that you do need to have a Shopify account.
Free tip: You could start a free 14-day trial with Shopify, get your privacy policy, and if you aren't satisfied with the service, you can cancel the free trial.
However, just remember that the basic policy they email to you IS NOT complete, it's only a template.
7. Privacy Policy Generator
Privacy Policy Generator is the only free generator that we dare recommend, and even so, we only recommend it when you have no option but to use a free generator.
Privacy Policy Generator has the most straightforward system of any online generator on our list. All you have to do is answer 9 simple questions and just like that, you now own a basic privacy policy template.
No free templates offer full GDPR compliance for free. You'll still have to complement the policy with the missing clauses yourself or by hiring a lawyer. Below we give some tips to help you write your own clauses to make sure your privacy policy is compliant.
The policy they generate is not all-encompassing and many details and clauses were omitted. On the bright side, it did include cookies, GDPR wording, third parties–that is why it made on our search for the best GDPR privacy policy generator.
Choosing a Good Privacy Policy Generator
If you search for the keyword "best privacy policy generator", which is probably how you got to this article, you will be greeted with hundreds of results. But if every privacy policy generator promises to be the best, how can that be true for all of them? And how can you separate the subpar from the excellent? In this section, we try to help you be confident that your privacy policy is fully compliant.
There are a few requisites that the best privacy policy generators should all comply with to earn a recommendation, besides complying with the laws pertaining to the nature of your business.
Below we have listed the characteristics that you should prioritize when looking for a good option:
Compliance
Convenience
Comprehensiveness
Customizability
Cost
Compliance: GDPR, CCPA & CalOPPA
To limit liability, you must include a privacy policy compliant with GDPR standards if you are collecting information from the European Union. If your website is collecting information from the US, then look for privacy policy generators that adhere to CalOPPA and CCPA laws.
The new CCPA regulation pertains to companies that serve California residents and generate more than $25 million dollars in revenue. TermsFeed, our first pick, and Iubenda, our third pick, have both updated their online privacy policy generator to reflect CCPA, CalOPPA, and GDPR regulations.
We recommend that you look for a privacy generator that covers both international acts, as this guarantees that no matter where your visitors come from, your company is covered. Termsfeed, GetTerms, and Iubenda all make sure to include both EU and US mandates.
Comprehensiveness
It's true that privacy policy generators may never rival the customization and detail of a privacy policy written by an actual attorney. However, an online generator can still create a good enough policy that keeps your business compliant.
For owners of e-commerce or third party services with specific needs, you will need a policy that either includes these clauses or add them yourself (preferably a professional attorney).
The most comprehensive privacy policy generators in this list are the top three picks. The other online privacy policy generators either skip on some of these clauses or try to capitalize.
Cost
This is perhaps one of the most controversial aspects. On one hand, you have free privacy policy templates that get the job done and, on the other, you can find expensive services that for a monthly fee they will keep your policy up-to-date.
The best advice we can give you is that you consider your budget, the features you need, if you have special requirements, and .the clauses that MUST be present in your privacy policy.
Lucky for us, most generators come at a reasonably affordable price, especially compared to hiring a lawyer. That being said, unless you have a large budget, we recommend going with a one-time payment generator. Cost, really, is up to you.
Conclusion
There are several websites that can help you create your privacy policy document at a low fee. However, it's crucial that you consider all of the factors mentioned above so that you get the best out of your privacy policy. While most privacy policy generators use similar templates, in some cases you will need to add or edit the policy to make sure it satisfies your requirements.
Regardless of the privacy policy generator that you choose, it is good legal advice to seek third party advice from professionals because having a non-compliant privacy policy is as terrible if not worse, than not having a policy at all.
Think of it as a form of insurance. You would dread to be sued (and be found liable) because you mishandled someone's personal data. Sometimes you don't even have to make a mistake, just not having a clause covered can get you in legal trouble.
That being said, the privacy policies listed in this article should do a good job of covering your website. Remember, when it comes to privacy and personal data, you are never too protected!
Oh and if you are in the market for affordable legal documents such as contracts and wills, check our review on LawDepot and LegalZoom
Good luck!